Salesforce Reseller India Partner
We are an accredited Salesforce Reseller Partner, using the best solutions to fulfil your needs.
We find the right Salesforce Solutions for businesses of any size and complexity level!
Teqfocus is a globally recognized Salesforce Partner and a trusted digital transformation company. We specialize in wide-ranging Salesforce Solutions, like Sales Cloud, Marketing Cloud, Service Cloud, Community Cloud, Lightning Capabilities, and Revenue Cloud. We work with businesses of all sizes – big enterprises with thousands of employees or small to medium businesses – to customize and implement the best-suited Salesforce Solutions as per their business-specific needs.
Our motto is to provide our clients with expert Salesforce assistance. We deploy the talented feat of Salesforce-Certified experts on the projects to implement Salesforce per client's needs. Our experts possess extensive Salesforce implementation experience of over ten years. We strive to let our clients make the most of the solution and develop them as high-performing business platforms in the long run.
Teqfocus takes pride in operating as Salesforce Reseller and Salesforce Ridge Partner. We set up the appropriate volume-based discounts. We interact with our esteemed clients with a focused project management approach and ensure our clients benefit from our extensive domain expertise in the Salesforce ecosystem.
Teqfocus remains with you as your success partner to establish long-term ties with your clientele and help you maximize your Salesforce CRM. We work with our clients as the one-stop solution provider for Salesforce – We provide Salesforce services, cloud solutions, and business automation technology.
Most notably, we recommend to you the best Salesforce solutions at the right time. We help you adopt the perfect solutions through our extensive experience in EdTech, BSFI, Healthcare & Life Sciences, and Manufacturing. We also leverage our domain knowledge in Sales, Marketing, Integration, Operations, and Security.
Ready to talk?
We'd love to hear from you and discuss how we can help your organization!
Our solutions come with a comprehensive, end-to-end roadmap to integrating Salesforce products, optimizing and accelerating your sales cycle, and improving your productivity and ROI.
As a Reseller Partner, our licenses emphasize
Teqfocus possesses a successful track record of over a decade in consulting, implementing, and providing prompt technical support to our clients throughout their Salesforce journey. We keep the customers first and believe that we will deliver, exceeding their expectations every time.
Teqfocus works closely with the clients, not just as a Salesforce Partner but as your trusted companion, to help you make the most effective use of Salesforce for your consistent, long-term business growth.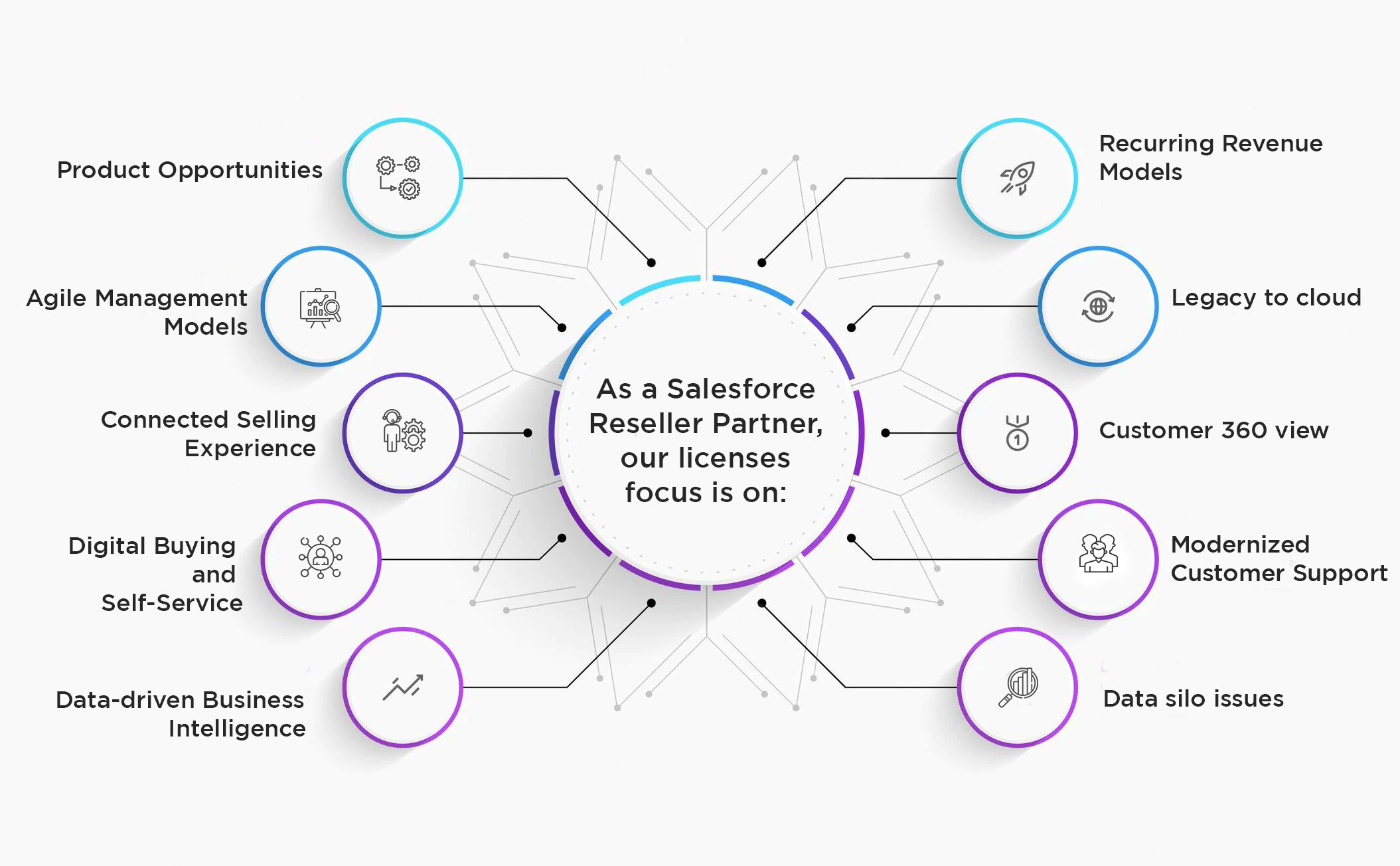 CSAT Rating with Salesforce
Prebuilt Solutions & Accelerators
✔ Streamlined Quote
✔Omnichannel Customer Service
✔ Increase Selling
✔ Automated Processes
✔Connected Customer & Revenue Lifecycle
✔ Effective Cost-optimization
✔ Maximized Revenue
✔ Enhanced Functionality
✔ Increased Visibility Across Teams
✔ Digital Selling & Buying
✔ Intelligent Engagement
✔ Transform Modern Sales
✔ Deliver Growth
✔ Increase Productivity
• Get more leads, complete more sales, and do more in less time.
• Every consumer assisted from anywhere, at any time
• Make fruitful interactions with your customers
• Predict customers' requirements based on analytics
• Monitor and manage your business from anywhere at any time
• Artificial intelligence can help expand exterprise.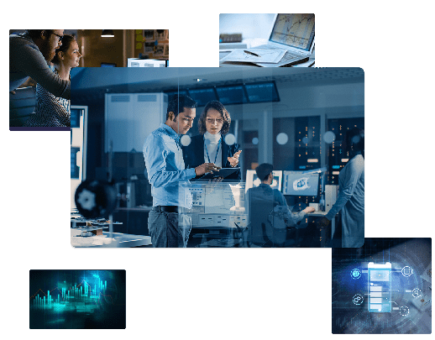 • Healthcare and Life Sciences
• EdTech
• Real estate
• Financial services
• Manufacturing

Identify cloud

Envision solutions

Efficient Salesforce Adoption

Plan Digital Transformation journey

Global Rollout

New Revenue Models

Digital Expectations

New Revenue Streams

Competitive Dynamics
Product Portfolio
Salesforce Sales Cloud
Increase revenue and improve customer satisfaction with the only digital-first sales platform that works across all touchpoints, sales channels, and revenue streams
Salesforce Marketing Cloud
Salesforce Marketing Cloud
Get solutions and growth-oriented approaches to increase ROI, use consumer data in marketing, and handle customer data efficiently
Salesforce Experience Cloud
Salesforce Experience Cloud
Provide fast and customized digital experiences, strong customer interaction, effective measurement, analysis, and optimization, increased security, and seamless data integration
Salesforce Lightning
Cutting-edge, quick, and intelligent user interface designed to increase business efficiency while also providing a detailed analysis and insights.
User Licenses
Get Salesforce user license, which gives you full access to all of the basic CRM and Salesforce AppExchange products
Don't take our word for it
listen to what our clients have to say


Scott Hutchinson
Data, Technology and Design at Dare America
They are committed to solving client issues and are highly resourceful. Quick to respond and equally quick to debug and correct pre-deployment challenges and obstacles. The team is a pleasure to work with, making a massive difference when tackling complex client requirements.

Chris Sawwa
Ex- CTO / Co-founder of Core Learning Exchange
Great service, very flexible and reliable. We've been doing business with Teqfocus for several years now and can always count on them for help and for going above and beyond.


Bejoy John
Co-Founder - Vetty
Vetty has been partnering with TeqFocus for technology requirements pretty much from its inception. Teqfocus has been able to provide quality resources at a lower cost compared to the other vendors. Further Teqfocus team has been a patient listener to our concerns, taking immediate action to our requests and making sure all our concerns are addressed in a timely fashion. Recently I have seen the Teqfocus team taking a global stance not just in onboarding technology experts but also supporting various global initiatives and causes.


Milagros Yanes
Sales Manager at Plan B Immigration Solutions
I have been working with Teqfocus Solutions for close to 1 year and they always deliver quality and professionalism. They provided a clear expectation of the scope of the project and went above and beyond to provide a seamless migration. We are pleased with their services and look forward to working with them in the near future.


James Wilkinson
Co-Founder & Director of Streaming Tank
Extremely helpful at all stages and always sends me a pdf of screenshots on how I do things on my own in future. I archive these for other staff that might need help.


Aseidas Blauvelt
Chief Technology Officer - ALU
I have had the pleasure of working with Andy and his team on several of our Salesforce and Java related projects this year. Andy's team is dedicated, productive and has deep knowledge of Salesforce tools and technology. I would happily recommend Teqforce as a technology partner.


Jeff Magnusson
CTO at Alavida
We have worked with the Teqfocus teams in Vancouver and in Canada and their work has been excellent, we are 100% planning to work with them in the future.
They worked on admin tasks for us, building automation and improving our Salesforce configuration to best fit our actual workflows and needs.
The best part about this engagement, aside from the actual successful implementation, has been the incredibly clear communication from their team. On every task, there is a document with detailed instructions and screencaps, showing how to use the new feature, what objects are modified, and how to edit or maintain it in the future. If all of the outsourcers I work with communicated like this I would be a very happy CTO.


Jeffrey Katzman
Ed Tech Entrepreneur
I started working with Andy in the fall of 2016 to build the learning platform I'd designed. From the start he provided a very capable team that has grown with our product. I am very proud of our innovations in learning theory and design. Every step of the way, Andy has been a big thinker, and a reliable, flexible, consultative, entrepreneurial partner.


Dim Nedanovski
Managing Director at LeapFrogger
Great working with the team, always helpful, on time and creative in their approach.
About Teqfocus
A Salesforce Consulting Partner since 2012 and a trailblazer in helping SMBs in their digital transformation, Teqfocus believe in forming relationships rather than merely partnerships. We aim to work in collaboration to achieve maximum value using Salesforce as a growth platform. We provide skilled Salesforce Consulting and Implementation Services for enterprises of all sizes and industries as a Salesforce Reseller Partner. We have the knowledge and expertise to help you unlock Salesforce to become the platform you need it to be, whether you're a small business or an enterprise, just starting your company's Salesforce journey or seeking to manage and optimize your mature organization.