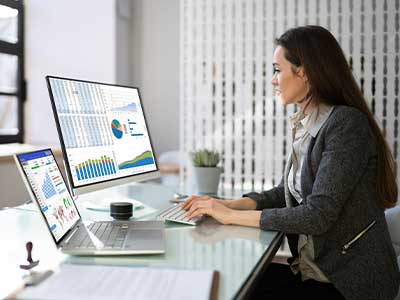 How to select CDP for your marketing needs?
The
Harvard Business Review (HBR)
article 'Why a CDP should be your next investment (dated March 20, 2020)' mentions that Customer data platforms (CDP) are just what marketers need to obtain unified and precise data. CDP enables access, analysis, and action on each detail that a company knows about a customer, which allows the marketing of this data through more personalized, nuanced, and effective content.
As we mentioned in our previous article, 'Are you leading Data and Analytics in your Organization? Make sure you know this about Customer Data Platforms!,' the D&A leaders must examine whether the CDP solution fits their overall D&A strategy and operating framework. Hence, correctly identifying a CDP vendor who can satisfy your organization's marketing D&A technology needs becomes essential and relevant.
The following steps may be considered in the process of identification of a CDP vendor:
Review the primary CDP capabilities: Data collection, Profile unification, Segmentation, and Activation.
Identify your use cases for a CDP based on the above review.
Exhaustively list the vendors that can support key workflows for the relevant use cases; e.g., creating the customer segment likely to churn some personalized recommendations provided across the channels.
Prioritize the list based on the key marketing priorities of your Organization.
Have a thorough data stakeholders' consultation with your IT, marketing, and D&A teams.
Align the company's customer data strategy with the marketing technology strategy.
Evaluate the options of adopting a solution from a possible vendor or in-house development of a platform. Support the possible approach by capturing the organizational needs for prebuilt integrations, marketing orchestration, connection to Customer Experience (CX) channels, and native execution.
Based on the above evaluation, develop a strong justification for deploying a CDP.
Invoke the customer data stakeholder consultation once again; and set realistic expectations for collecting and unifying the customer data across the different channels and touchpoints.
Understand, and help everyone acknowledge personalization use cases that the gap left by cookie deprecation will close by infusing third-party data and identity resolution into the CDP.
Prepare an inventory of existing skills and workflows in your marketing team.
Evaluate the marketing team's ability to collaborate with the other data stakeholders, particularly for data science, customer data modeling, data privacy, and execution.
Select the marketing solutions that deliver business value.
Let your team create the experiences that your customers want!
Why Teqfocus: Teqfocus is a team of dedicated data cloud professionals who work with fast-growing customers to realize higher ROI on CDP investments. Our customers enjoy a higher market share growth by investing in services analytics for personalization and customer journey analysis.
This document is professionally hand-edited and has been driven by research conducted by experts from both industry and academia.