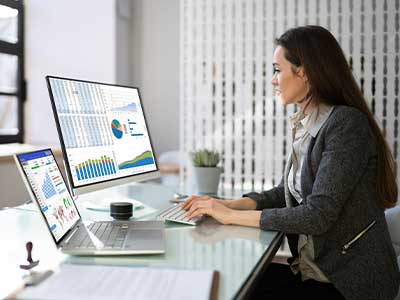 Are you leading Data and Analytics in your Organization? Make sure you know this
about Customer Data Platforms!
The Data and Analytics (D&A) Managers lead the processing and overall management of the data available within the organization in different domains. After this processing, the valuable outputs are segregated for use in marketing and other areas. Hence, after being trapped with D&A team for a finite time, the valuable outputs are then available to the Marketing teams and, in some cases, to the customer experience (CX) teams. During this period, the marketers struggled to integrate and operationalize the customer data and best use the existing opportunities.
To make this process more flexible, agile, and centralized to provide real-time insights, the organizations deploy Customer Data Platforms (CDP). CDP is expected to free the data from any dependencies to speed up the deployment of campaigns to reach target audiences at the right moment. CDPs are the tool for marketers, managed by the marketers. CDPs begin with the customers' personally identifiable information (PII) and the footprints of their activities. CDPs are expected to provide marketer-friendly user interfaces (UI), customer profile unification, and cloud-based solutions that minimize the need for IT or D&A interfaces.
Some core functionalities of CDPs are shared with other technologies, architectures, and design platforms, like Master Data Management (MDM) platforms, data hubs, data warehouses, data quality tools, analytics, and Business intelligence (BI) platforms. However, even if the capabilities overlap, the data, the governance rules, and the outputs might often be drastically different for marketing teams vis-à-vis the other users.
Deployment of CDP in organizations has restricted the role of D&A teams mainly to CDP selection and implementation. The D&A teams are entrusted to maintain the data quality (required for the utilized models and required outputs), data governance, and access controls (e.g., to access the sensitive PII) required to use customer data in CDP. The D&A teams also need to ensure that the required output from CDP for use by the marketing and CX teams is acceptable and accurate.
D&A leaders must evaluate why Marketing and CX teams need CDP technologies and whether the CDP can deliver the required capabilities. D&A leaders must examine whether the CDP solution fits their overall D&A strategy and operating framework. Mature D&A leaders tend to adopt a capabilities-centric approach to understanding marketing requirements. The Marketing, CX, and D&A leaders need a strong understanding of each other's objectives before and while implementing a CDP.
HBR recently mentioned [Ref.: "With the first-party data, marketers are finally in the driver's seat", Kathryn Murphy; September 27, 2022] that most companies lack the tools like CDP that can manage and activate first-party customer data to build deeply personalized campaigns. CDPs, which used to be an add-on for marketing teams, are now more mainstream. However, it is essential to understand that while CDPs are theoretically valuable, they are not necessary for every organization. Hence a company need not invest in CDP if its marketing stack is limited, the customer data is simpler, or the product/ service does not need personalization.
Why Teqfocus: Teqfocus is a team of dedicated data cloud professionals who work with fast-growing customers to realize higher ROI on CDP investments. Our customers enjoy a higher market share growth by investing in services analytics for personalization and customer journey analysis.
This document is professionally hand-edited and has been driven by research conducted by experts from both industry and academia.
Evaluating CDPs: Can you marginalize your competitors with more Customer Data? Part 2