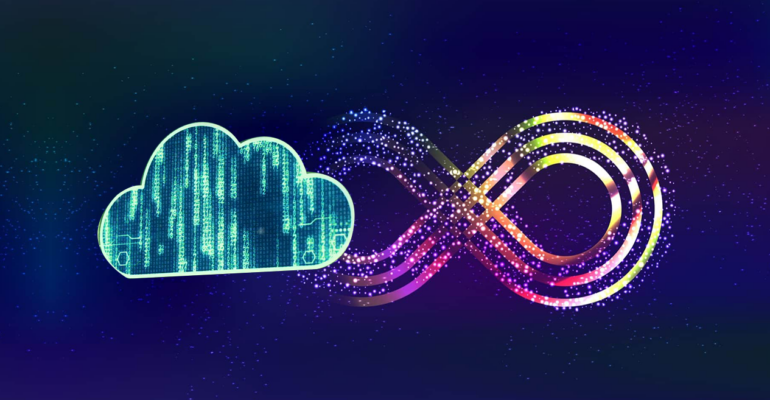 DevOps and Cloud are known to share a symbiotic relationship because digital strategists often leverage DevOps to accelerate the process of innovation and agile IT operations, while simultaneously using
Cloud-based solutions
for easy automation, faster time-to-market, and efficient capacity planning. As digital disrupters, we understand that it is not the cloud that's driving DevOps but it is DevOps that is increasing the interest and growth of Cloud-based services in various industries. Let's go out on a limb here and believe that, as an organization, you are already using both Cloud and DevOps, if not together then at least one without the other. Although DevOps and Cloud can be used independently of each other, when applied together the productivity is much higher and stronger. The global DevOps market is expected to reach USD 10.31 Billion by 2023, at a CAGR of 24.7% during this forecast period. and worldwide end-user spending on public cloud services is forecasted to grow 18.4% in 2021. To understand better let's dissect the two terms – DevOps and Cloud
DevOps Vs Cloud
DevOps
 is the automation of agile methodology that empowers developers to cater to business needs in real-time. As DevOps has begun to become more Cloud-centric, we see that cloud provides DevOps a platform to continuously integrate, use development tools, and have better control over the processes. Instead of a large monolithic application, DevOps helps decompose larger processes into smaller steps and then go one to automate these steps. There is a set of combined practices of continuous integrations, deployment and delivery also called CICD, and in this CI/CD pipeline, all the smaller processes work simultaneously to bridge the gaps between development and operation activities. With Cloud integration in DevOps, we take a holistic approach that will increase focus on security at every step of the pipeline allowing stakeholders to build, test and deploy to any cloud. This amalgamation of DevOps and Cloud is efficient and cost-effective as it enables problem solvers to find issues at the point of origin and lean towards better application performance, quicker deliveries, and continuous feedback loops.
Cloud and DevOps Are Better Off Together
We know that DevOps enhances the cloud experience whereas cloud aids developers at every step of a successful operation and reduces downtime by providing a platform to send files back and forth between members.
Even CloudOps as a strategy is changing the way that cloud services function as it has emerged out as a marrying of DevOps and traditional IT operations that gets applied to a cloud-based architecture.
Expounding on the topic of Cloud and DevOps, let's go through a few reasons why Cloud and DevOps work efficiently and productively.
Culminating the two – Cloud computing and DevOps practices enable faster growth in the organizations' simultaneous development and avoid doesn't overlap the different steps in the process.

Cloud computing in DevOps allows the team to collaborate from different parts of the world in less than a jiffy and lifts off the burden of physical servers and hardware issues.

Pipeline streamlining becomes an easy process to deploy, maintain and implement. Hence the DevOps team deploy updates with fewer dependencies, avoiding single- point failures and build a more resilient data pipeline.

The emergence of Distributed Cloud is an advantage to DevOps- distribution of public cloud services to specific and varied physical locations with operation end of it closer to the administrators. This reduces cloud system maintenance complexities.

Aligning the security teams and DevOps also called DevSecOps, leads to increased security within the smaller steps in the automated processes – giving better security controls complete orchestration control to the management.

A cloud-first attitude and strategic DevOps approach opens up a pandora's box of innovation and creating limitless possibilities for both small and large business owners.
The Post-COVID world has accelerated the proportion of IT spending on cloud services and the cloud-native computing environment is expected to hold more priority. DevOps is the future and as the days go by all of us will be adopting the DevOps + Cloud philosophy in numbers, not only unicorn organizations but traditional organizations as well. If you're an enterprise stepping into the world of DevOps and Cloud and are looking for cost-effective digital solutions, then ping us now at sales@teqfocus.com or call us on (647) 503-4889. Our team is only a ping or call away.