Given the global conditions and the pressure of adapting to the new change, every company is putting their best team out there to cope with the adjustments and finding newer ways to reduce their AWS expenditure. The company's tech team's priority should be to make all IT-related activity costs transparent which can be achieved by having a well-structured framework for the cost and pricing models. The best practice is to educate your ourselves about the architectural practices for designing reliable, cost-effective, and efficient systems in the cloud. AWS's Well-Architectured Framework is designed in such a way that it helps you understand the advantages and disadvantages of the decisions you make while building the systems on AWS. Before we dig into the best practices of AWS Cost Optimization, let's take a look at what it means to optimize your costs.
What is AWS cost-optimization?
AWS Cost Management tools help companies take control of their costs and prices while continuously optimizing the spending, building scalable applications that rightfully meet the need. The services and pricing options of the tools effectively manage costs, performance, and capacity. The cost optimization architecture is built on the five pillars of its framework viz. operational excellence, data security, authenticity, performance efficiency, and cost optimization.
AWS's Cost Optimization techniques work on the idea of running systems in an efficient manner such that proper business value is delivered at the lowest possible price point. One of the main practices of cloud cost optimization is reducing the overall cloud expenditure by locating mismanaged resources, waste elimination, capacity reservation for higher discounts, and right-sizing instances that are underutilized.
1.Rightsizing EC2 Instances
The first practice while doing cost optimization is when you don't need them, turn off or suspend instances that are not needed. A common example is EC2 instances i.e., virtual servers that are used for running applications on the Amazon Web Services (AWS) infrastructure, and it's applied in the ongoing development and testing processes. These cannot be produced on demand, but they should be operational only within the relevant development team's working hours and shut down when not in use. For workloads that are scheduled or regular in demand, then using the AWS Instance Scheduler may come in handy and help you bring down some of the instances during low demand cycles. You can define when specific instances should be triggered based on the time of day by using the Instance Scheduler and consolidating those instances collectively into a single unified schedule.
2.Using the best cost-effective resources and maintaining billing hygiene
With the use of cost appropriate instances and resources for your workload, that in turn, has a positive and economic impact on your business. The biggest advantage of cloud computing is that it can fit the exact infrastructure that you need as per your specific requirements. Despite all these custom-made services, you only pay for what you utilize – which is an incredible asset for most start-up companies that can't afford unnecessary cost burdens. A good and maintained billing hygiene shows you daily spend on are a regular basis, identify a suspicious rise in economic value, or detailed monitoring of your costs and spend time.
3.Use MSPs for AWS cost reduction strategies and ownership
Managed services help you eliminate the operating burden of maintaining servers for certain activities such as sending emails or handling large-scale databases. Getting managed service providers to handle your AWS cost optimization and strategies set up, you're focusing on structural AWS managed service costs that would speed up the business. Managed services operate on a cloud-scale they will provide a lower or flexible cost as per each transaction or service that they provide. MSPs also allow you to free up Database administrators and leaders to focus on the core business and spend time on the development of the company.
In terms of keeping a good Amazon Web Services billing hygiene and maintaining the best practices for cost optimization, the list goes on and on. As an AWS Advanced Consulting Partner, we at Teqfocus believe in finding ways to help companies in the cost reduction on AWS tools and find resources to tackle everyday growth challenges.
If you wish to get support in analyzing your usage and AWS infrastructure to distinguish the instances and workloads, feel free to reach out to us at [email protected], and we will be ready to help.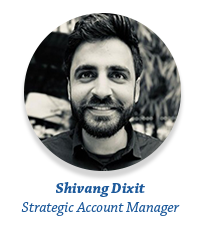 "Learning to unlearn and continue to learn" – is a statement that acts as a change agent in Shivang's personal & professional life.
Shivang is someone who believes in the power of discipline, and he takes after this philosophy from his keen interest in sports like MMA.
He has been a part of rapid growth tech houses while perpetually contributing towards revenue, growth, and sales transformation.
With a passion for technology and strategic relationships, Shivang has helped growth companies scale rapidly and win in B2B2C SaaS, Solutions development, User experience transformation.