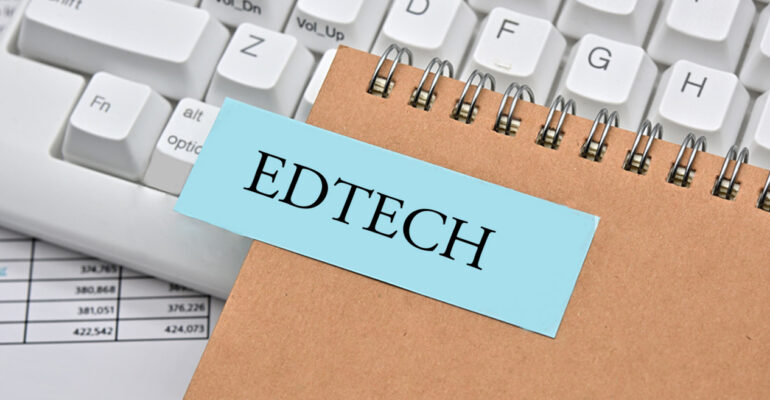 The year 2020 brought along a drastic change in various aspects of our lives, e.g., our lifestyle, mode of work, economy, and finally – a complete trip around the edge for students who inevitably had to step into the world of online and Edtech learning. On account of temporary-until-specified termination of off-line classes and thanks to pandemic guidelines, children and education providers had no other choice but to continue learning through e-classes, mobile applications, and creative online techniques. The global education technology market is expected to be driven by an influx of 500 million students in the next 5 years – this produces an increased demand for enhanced models of education, quality remote teaching, and accessible-to-all learning. To get a sense of the size, scope, and growth of the Edtech market, let's look into what the Edtech industry is all about.
So, what is EdTech and why is it such a big opportunity?
EdTech is a practice of combining education and technology within one framework and facilitating learning with the collaboration of IT tools and educational practices. Across the learning life cycle of students, technology is inevitably infused and will continue to be so for humans for many decades. The idea is to find a way to go beyond the four walls of a classroom and jump into the world of remote teaching and innovative learning with the help of technology. E-learning development is a multi-billion industry that looks to simplify education across the globe and bring an excellent classroom experience to all computer screens.
The last 10 years have seen a drastic improvement in terms of accessibility of internet,Edtech tools, learning platforms, educational content, software, online degree market and much more. The Edtech expenditure was predicted to grow to become a USD 400 billion industry by the end of 2020, even in the pre-COVID environment. As per research, in January 2020 14 Edtech companiesmgot valued over 1 billion US dollars, which showed a foreseeable potential investment opportunity for Edtech unicorns and pave a path for E-learning software development with a revenue growth that may hit $325 Billion by 2025. Many Edtech companies took advantage of this market prediction to make the right investments and move towards fundraising in quality online education. As per statistics recorded early this year, BYJU's – India's leading school training start-up, ranked first in education valuation in the market.
The Future of Education Technology and Online Learning will be driven by the global trends that are common in most countries and will accelerate growth through the next few years. But this year has brought on new challenges that need tackling with strategic innovations and futuristic planning –
The increase in population growth in developing countries – which means more students and learners
Increase in digital education requires up-to-date technologies, tools and services.
The expectation of improved assistance, efficiency, accessibility and outcomes rises
As a sector, the EdTech industry is highly under digitized with less than 3% of overall expenditure allocated to digital that poses a big challenge for developing countries.
Increased focus on tech and digital software, the schools are under pressure to invest more in gadgets and high-speed internet. This may become a problem for students living in rural areas of developing countries.
The Present and Future of EdTech sector
Pricing and investment opportunities : We can expect to see increased flexibility and innovation of pricing and sales by Global K-12 Edtech solutions providers as education systems are made available for all. Reasonable pricing of services should be on top of the list. Venture capitalists are weighing in on the favourable dynamics of global education scenario. The future of education technology in 2023 is poised to set new benchmarks with investments expected to triple in the next decade with India and China leading the way for investment growth. Increase in online education will bring great challenges for students, which is a window of opportunity for education companies to provide innovative solutions.
Good quality IT infrastructures and devices : Nearly every day is a brand-new day for implementation of technology in core education delivery, and there is an arena full of content available on books, radio, computers, and the internet. Start-ups and Edtech moguls are demonstrating interest in the real future viz. virtual reality (VR), 3D training, (AR) Augmented Reality applications, adaptive learning through AI and machine learning – the opportunities are endless. VC investors see potential investment opportunities in the next 5 years, especially for K-12 Edtech innovation and solution providers.
Interactive learning : The pandemic has let quite an impact on the way children are learning and looking at the market environment, it seems like we are to continue with home-schooling our children until we are instructed otherwise. With the decline in student-teacher ratio and whiteboard-to-screens shift, education institutes need to come up with interactive learning techniques to keep the curiosity of the kids at peak. With the promise of VR, AR, AI, and robotic integration into the curriculum, we can expect to foster better engagement, higher cognitive learning and create more memorable content.
Government policies for public and private school systems : Compared to the last few years, including pre-COVID era, the educational environment has made 180-degree shift from WHAT should we teach to HOW should we teach. Countries are implementing new education policies to foster quality learning experience inclusive of new education guidelines for schools, colleges, teachers and students. There's a rise in government policies that support the growth of Edtech companies and shows the potential for a bright future for students, teachers and parents. To further bolster the future of Edtech in India, India's National Education Policy has placed a special focus on digital education and remote learning with a dedicated unit to set up digital Edtech infrastructures.
The future of EdTech looks promising with increased flexibility and innovation of pricing and sales, more investments in EdTech software, and the introduction of VR, AR, AI, and robotic integration into the curriculum. Governments are also implementing new policies to support the growth of EdTech companies and provide quality learning experience to all.
In the uproar of accommodating ourselves to e-learning, focus on providing quality education shouldn't be lost in translation. The hope and zeal for the following decade should be that everyone has a right to education and deserves equal learning opportunities. How can we, as the trendsetters of the future, contribute towards creating cognitive learning platforms for future generations? What can we do to support students with limited access to technology? To know more, reach out to sales@teqfocus.com, and let's help you find a way to play a key role in the future of EdTech.